Downlighting / Recessed Lighting
Illuminate your property with elegance and energy efficiency using Athens Trimlight's exceptional downlight recessed lighting solutions.
Get a Free Quote
Upgrade Your Exterior Lighting with
Downlight Recessed Lighting
Beauty, security and customization at your fingertips.
At Athens Trimlight, we recognize the significance of high-quality exterior lighting for your property. Enhance the appeal of your home's exterior with our advanced downlight recessed lighting system. Perfect for homeowners, business owners, and interior designers, our soffit lighting upgrade solution offers unparalleled style and flexibility. Our top-quality RGB LED lights are not only energy-efficient but also easily replaceable, ensuring long-lasting performance. The covers of our downlights can be painted to seamlessly match your trim, creating a cohesive and aesthetically pleasing look. With Athens Trimlight's downlight and recessed lighting solutions, you can enjoy the perfect blend of style, energy-efficiency, and cost-effectiveness. Illuminate your property with stunning lighting that is both environmentally friendly and visually appealing.
Get a Free Quote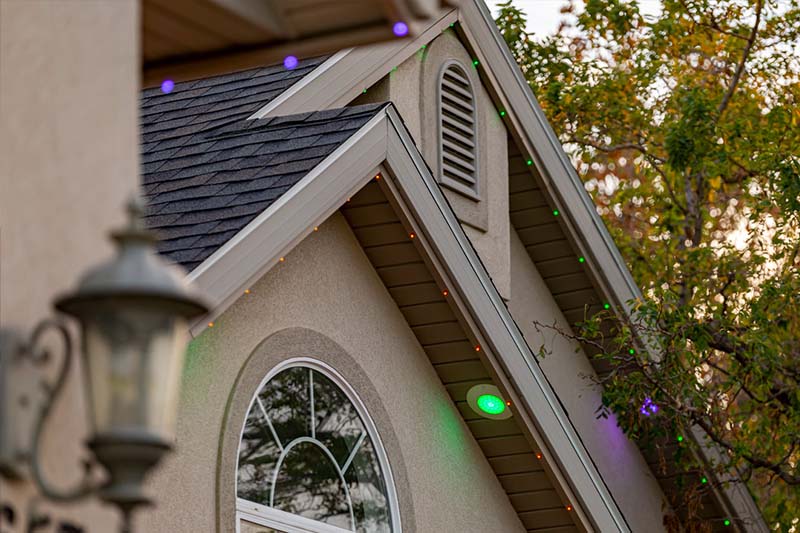 Enhance Your Outdoor Space with Stylish and Functional Downlighting
Enhance the ambiance and functionality of your outdoor space with Trimlight's exquisite selection of permanent downlights. Designed to provide focused and downward illumination, these LED downlights are the perfect choice for accentuating key features of your home or outdoor area. With their seamless integration, innovative technology, and durable construction, Trimlight downlights offer a sophisticated lighting solution that beautifully complements any architectural style.
The Trimlight Difference: Superior Quality and Innovative Features
When it comes to downlights, Trimlight stands out as a leader in the industry. With a focus on quality and innovation, Trimlight downlights offer numerous advantages that set them apart:
Exceptional Quality: Trimlight downlights are crafted using high-quality materials and advanced manufacturing techniques, ensuring durability and longevity.
Seamless Integration: These downlights seamlessly integrate with other Trimlight outdoor lighting products, allowing you to create a cohesive and customized lighting system for your home.
Innovative Features: Trimlight downlights are equipped with state-of-the-art technology, including programmable timers, dimming capabilities, and wireless control via the Trimlight app.
Trimlight Downlights in Action
With Trimlight downlights, you can elevate the aesthetics, functionality, and security of your outdoor space. Experience the sophistication and convenience of permanent downlighting by choosing Trimlight as your trusted lighting solution.
Get a FREE Quote Today
Step into a brighter holiday season with Trimlight. Click for a no-obligation quote and unwrap the joy of hassle-free holiday lighting!
Downlights Enhance Your Property
Enhance the beauty of your home or business with the versatile lighting options of downlights.
Designed to provide focused illumination and create a warm and inviting atmosphere, downlights are an excellent choice for various settings. Whether you want to highlight specific areas or illuminate a room, downlights offer customizable solutions to meet your needs. Enjoy the benefits of energy efficiency, as downlights consume less power than traditional lighting fixtures, helping you save on energy costs. With their long lifespan, downlights are a smart investment, providing reliable and long-lasting performance. Experience the difference of Athens Trimlight's downlighting solutions for your outdoor or indoor spaces.
Illuminate Your Property with Trimlight Downlights
Choosing Trimlight downlights for your outdoor space offers numerous benefits:
Enhanced Visibility: Trimlight downlights provide focused and directional lighting, highlighting architectural features, pathways, or landscape elements, enhancing the overall visibility of your property.
Increased Safety: With strategically placed downlights, you can improve safety by illuminating dark areas, ensuring a well-lit environment for your family and guests.
Energy Efficiency: Trimlight's LED downlights are energy-efficient, consuming less electricity compared to traditional lighting options, resulting in cost savings on your energy bills.
Customization Options: With the Trimlight app, you can easily customize the color temperature, brightness, and even create lighting schedules to suit different occasions or moods.
Longevity and Durability: Trimlight downlights are built to last, featuring high-quality LED components that have a long lifespan, reducing the need for frequent replacements and maintenance.
Contact us today to learn more and discover the transformative power of Trimlight recessed downlights.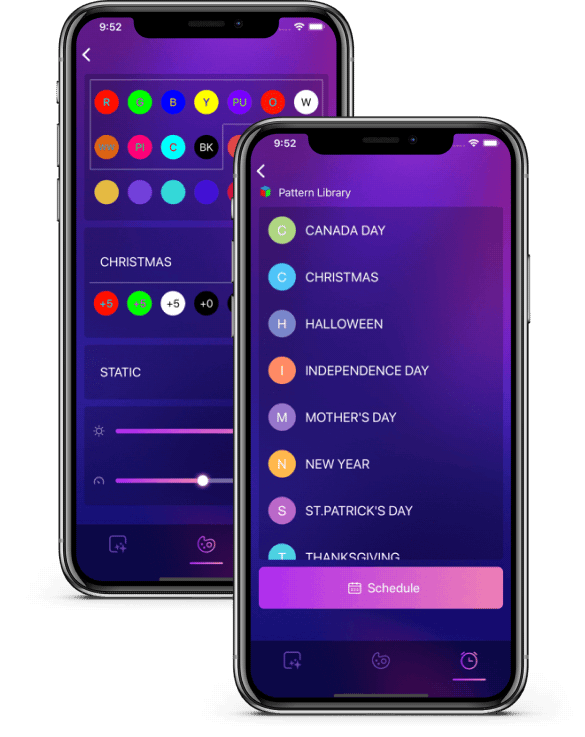 Experience Brilliant Illumination with Trimlight's Downlighting Solutions
Enhance Your Space with Versatile and Energy-Efficient Downlighting Options
Experience the convenience and enchantment of Trimlight's downlighting solutions with our revolutionary EDGE controller. With its user-friendly app and cutting-edge technology, you can effortlessly manage your permanent Christmas lights and make every occasion shine brighter. Explore a world of possibilities with millions of color options, mesmerizing patterns, and captivating animations. Let your creativity soar as you customize your holiday display to create a truly unique spectacle that will leave everyone in awe. With Trimlight's downlighting and the power of the EDGE controller, your home will be transformed into a magical wonderland of light and joy.
Global Access to Your Downlighting – With EDGE, your downlights are just a tap away, providing control and convenience no matter where you are in the world!
Synchronized Music Experience – Elevate your downlighting display by synchronizing it with your favorite tunes. Whether you use your phone's microphone, connect directly, or play from your device, the Trimlight app creates a mesmerizing lights and music experience!
Compatibility with Voice Assistants – Seamlessly integrate your EDGE controller with popular voice assistants such as Alexa and Google Home. Simply command Alexa or Google to control your Trimlight system, adjusting colors or turning it on/off with ease!
Leverage Cloud-Based Technology – Harness the power of cloud-based technology to remotely connect and manage your Trimlight downlighting system, ensuring your space is beautifully illuminated even when you're away.
Showcasing Trimlight EDGE – Experience the incredible possibilities of Trimlight EDGE through our captivating video. Witness the vibrant colors, dynamic patterns, and music synchronization options that our EDGE controller brings to your permanent downlighting.
Experience the Trimlight Magic
Transform your holiday decorating experience with Trimlight's permanent lights. Don't delay, get your free quote now!
Get a FREE Quote Today